A TEAM OF INNOVATORS
PSI President and Chief Technical Officer, Dr. Curtis Berthelot (P.Eng.), earned his Doctorate of Civil Engineering with a focus on Materials Science. He has built a team of more than 100 engineers, geologists, lab technicians and industrial operators with decades of experience.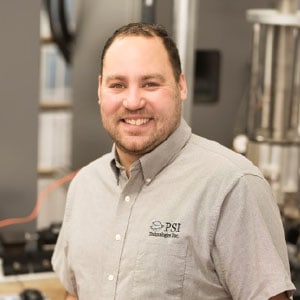 Tony Shynkaruk
Superintendent
Mr. Shynkaruk is a superintendent for PSI field operations.  
He has been working in the construction industry for over 14 years and his experience includes road construction, onsite project management, and field crushing operations. 
Mr. Shynkaruk is an experienced superintendent and equipment operator.  He is knowledgeable in equipment service and maintenance.  His past work experience includes the general foreman of service for a large construction operation in northern Alberta, where he supervised the daily equipment maintenance and service of over 60 employees.
Transportation Infrastructure
Mr. Shynkaruk supervises PSI field crushing and road construction operations.  He coordinates equipment mobilization/demobilization and set-up.  Mr. Shynkaruk's hands-on experience managing equipment and personnel combined with his capabilities to operate equipment and understanding of crushing, field, and road construction operations make him an important asset to the team.
Mine Infrastructure
Mr. Shynkaruk supervises tailings processing and backfilling operations within PSI.
Academic Credentials
High School Diploma, Shell Lake High School, Shell Lake, SK, 2000.
Professional Credentials
MSHA Experienced Miner Certificate, Underground.
Publication Record